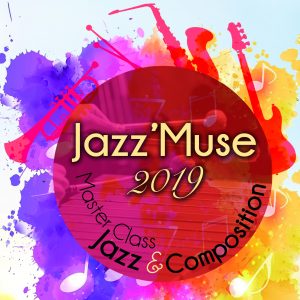 For the 3rd year in a row, Val Muse proposes instrumentalists instrumentistes and composers to meet in the same place for a JAZZ and COMPOSITION Master class with Tony MICELI , David PATROIS, et Bardia CHARAF.
. 13-20 July 2019 : ARRANGEMENT / COMPOSITION
Two days for people registered in composition classes : they are asked to arrange a composition they choose ( standard or personal) the theme of which must be sent early July. After those 2 days, the students will propose their work to the instrumentalists. At the end of every afternoon, they'll learn how to make them rehearse and how to conduct them thans to B- Charaf's experience until the last concert on July 19th.
. 15-20 July 2019 : ALL INSTRUMENTS JAZZ – VIBES
Jazz course for postgraduates, classical or modern music, all instruments and also for teachers wishing to improve this style. David Patrois and Tony Miceli will respectively share the rythm, modes, standards effects with 2 groups to adapt to each students. The less experienced instrumentalists could be helped by Val'Muse teachers. présents sur place pour les instrumentistes plus novices dans ce langage. End of second year students are eligible on request.
Vibes Master Class with Tony Miceli : end of everyday.
Individual saxo- lesson on request with B-C (without extra fee) .
Every night JAM in a different location in Valromey (Townhall in Vieu, Restaurant L B P, School in Champagne, Observatory at the Pass of La Lèbe…)
. Sunday July 14th, OPENING CONCERT
Dirk Boerner and Bardia Charaf : baroque jazz arangements, in Champagne en Valromey
. Wenesday July 17th, TWO VIBES CONCERT
Tony Miceli and David Patrois, in Champagne en Valromey
. Friday July 20th CLOSURE CONCERT
First part, Tony Miceli, Bardia Charaf, David Patrois
Second part, reproduction of the composition class – In Virieu le Petit
. Every morning : free, optional Yoga Iyengar practicing with Constance Boerner
. PRICES
Once again, Val'Muse is committed to offering this event to as many people as possible, and restricts student participation to the fairest price. However, if you had difficulties, it is possible to apply for the Solidarity Fund.
Master class JAZZ from 15 to 20 juillet : teaching 300€, meals 110 €
Master class JAZZ and COMPOSITION from 13 to 20 juillet : teaching 390 €, meals 145 €
Deposit check payable at registration and no later than June 10 : 150 €.
Opening of registrations : March 4, 2019
Discounts : -50 € for all registrations before April 1st, -50 € for people making available their vibraphone or their battery
Young people's leisure vouchers and holidays vouchers Payment in several times possible, contact the association (val-muse@wanadoo.fr)
Val'Muse compulsory membership : 15€
Reception : Saturday 13th from 13h30 and Monday 15th from 9h
Departure : Saturday 20th after breakfast
Accommodation : homestay with participation of 5 € per day, or ask for accommodation (camping, bed and breakfast, gites) in val'Muse