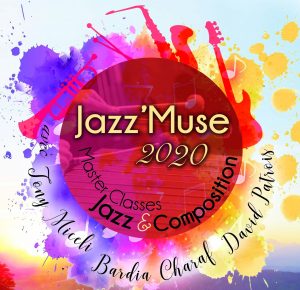 For the 4th year in a row, Val Muse proposes instrumentalists, arrangers and composers to meet in the same place for a JAZZ and COMPOSITION Master class with Tony MICELI , David PATROIS, Bardia CHARAF and Félix SABAL-LECCO.

Master Class
. 21-27 July 2020 : ALL INSTRUMENTS JAZZ
Two days for people registered in composition classes : they are asked to arrange a composition they choose ( standard or personal) the theme of which must be sent early July. After those 2 days, the students will propose their work to the instrumentalists. At the end of every afternoon, they'll learn how to make them rehearse and how to conduct them thans to B- Charaf's experience until the last concert on July 11th.Multi-style jazz course open to all jazz instrumentalists, current or classical music, from the end of the second cycle up to teachers wishing to discover or improve in these styles. Every morning there are lessons to develop the playing vocabulary around solos and accompaniment, as well as rhythmic language. The afternoons are dedicated to group play according to different aesthetics (be-bop, funk-reggae, asymmetrics / modal harmony, student compositions) and to individual instrument lessons (winds, vibraphone, guitars, drums and percussion) ). The evenings are the occasion for convivial times of jams and concerts. They will be open to the public according to the updated health guidelines. Organic and vegetarian food, homestay accommodation, morning yoga classes, attention to everyone, the beauty of the surroundings, everything contributes to a warm and intensely musical.
. 20-27 July 2020 : JAZZ & COMPOSITION
July 20 and 21 are reserved for composition students: they are asked to arrange a composition of their choice (standard or personal) whose theme * must be sent no later than June 15. They will then arrange it by choosing from the size of the internship (sketch to be sent no later than mid-July). After these two days of retreat with Bardia Charaf, the students will offer their work to the instrumentalists of Jazz Muse and join the general program of the week. *The theme can be chosen by the student or provided by Bardia Charaf.
. Every morning : free, optional Yoga Iyengar practicing with Constance Boerner (Iyengar Yoga certified teacher)
Prices
Once again, Val'Muse is committed to offering this event to as many people as possible, and restricts student participation to the fairest price. Payment in several installments possible or solidarity fund : contact the association
. Fees :
Master-class ALL INSTRUMENTS JAZZ – Teaching : 330€ / Meals : 120 €
Master-class JAZZ & COMPOSITION – Teaching : 390€ / Meals : 160€
. Discounts : -50 € for all registrations before May 31th and -20€ before June 15th, -30 € for people making available their vibraphone, their marimba or their drum
. Organic and vegetarian meal : "Le Chaudron du Dagda"
. Accommodation : homestay with participation of 6 € per day, or ask for accommodation (camping, bed and breakfast, gites) to val'Muse
. Reception : Monday July 20 from 9 a.m. (for Jazz & Composition) and Tuesday July 21 from 6 p.m. (for Jazz tous instruments)
. Departure : Monday July 27 after breakfast
Possibility to pay with Bons loisirs-jeunes et chèques-vacances. Payment in several times possible, contact the association (val-muse@wanadoo.fr)
. Val'Muse compulsory membership : 15€
Teachers
. Tony MICELI
BE-BOP / VIBES
Teaching language : english
Tony Miceli is at the origin of Jazz'Muse and comes, for the fourth time, generously share his intimate knowledge of American jazz. He is now a professor at the University of the Arts and at Temple University in Philadelphia. He performs in many jazz clubs and festivals and teaches in the United States as well as in Europe or New Zealand. He created and animates VibesWorkshop, an online vibraphonist community which has more than 3000 members.
. David PATROIS
ASYMMETRICS RYTHMS – MODAL HARMONY / VIBES
Teaching language : french
After a classical percussion training, David Patrois obtains a scholarship from the Ministry of Culture to study with Gary Burton at the BERKLEE SCHOOL OF MUSIC at United States. Back in France, he collected the prizes: at "La Défense" jazz competition, within groups of David Chevallier, Eric Lohrer or Olivier Ker Ourio, and wins the first prizeof the "jazz and thriller" competition. Holder of the C.A de Jazz, he teaches in Paris Conservatories, especially for advanced classes, and is in demand for master classes in France and abroad.
. Bardia CHARAF
ARRANGEMENT / COMPOSITION / WINDS
Teaching languages : deutsch, english, french, spanish
Born in Switzerland, Bardia Charaf studied classical music and jazz at the School of Fine Arts in Havana and obtains his "Master in Performance"of classical saxophonist and jazz with the congratulations of the jury. He studies then with prestigious masters such as the conductor Claudio Abbado, pianist Herbie Hancock, saxophonists Ron Blake and Marcus Strickland. Holder of a composition doctorate contemporary of the Bern High School, he is intensely involved in jazz, early music and oriental music.
. Félix SABAL-LECCO
FUNK / REGGAE / PERCUSSION / DRUM
Teaching languages : french, english
Felix Sabal-Lecco accompanied by his chopsticks and singing, the biggest names in pop (Sting, Peter Gabriel, Paul Simon, Lenny Kravitz), African music (Manu Dibango, Youssou Ndour, Salif Keita) or Funk, Jazz and Hip Hop (Prince, Herbie Hancock, Snoop Dogg …). Chameleon drummer with super-powerful groove, he has the energy communicative and passion for transmission.
. Fédia AMICE
GUITAR / INDIVIDUAL SUPPORT
Former student of Sylvain Courtney, Éric Daniel, or Claude Jeannet, Fédia Amice is a jazz guitarist, who performs regularly at various musical events in France and Switzerland. Professor of guitar and jazz for 5 years, he continues today to train at the Haute École de Musique de Lausanne, in order to perfect his improvisational language.