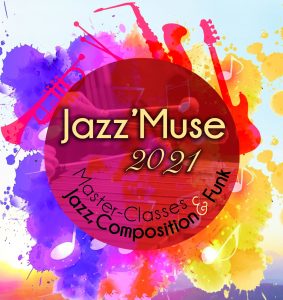 For this fifth edition, Jazz'Muse will take place in three tiled stages, allowing students to choose the length of their stay (from 6 to 9 days of lessons) and their main theme: Current Jazz / Funk / Be-bop. It is possible to receive advice in arrangement-composition with the teacher of their choice. The late afternoons are an opportunity for time to meet, and each evening takes place jams or concerts in emblematic places of Valromey.

Master Class
Jazz actuel 9 to 16 juillet
• David PATROIS, ENSEMBLE / VIBRAPHONE / ARRANGEMENTS 
Language of instruction: French
"One of the most original vibraphonists on the current scene"
(Jack de Johnette) got a scholarship to study withGary Burton 
at Berklee School. Back in France, he collects prizes at the 
La Défense jazz competition, within the groups of David Chevallier, 
Eric Lohrer orOlivier Ker Ourio, and in the "jazz and thriller" 
We see him regularly alongside Aldo Romano,Nelson Veras, 
Bojan Z, Hervé Sellin, Glenn Ferris, Bernard Lubat, 
Emmanuel Bex, Louis Sclavis, and more recently Charnett Moffet, Victor Lewis, Jeff Ballard…
Holder of the C.A. de Jazz, he teaches in the conservatories of the 5th and 15th arrondissements in Paris, and is in demand for master-classes in France and abroad. His many remarkable recordings highlight his qualities as a transversal musician, which goes beyond the simple fusion of genres, and propels the music lover into a rich, complex and exhilarating poetic world, in which he also invites his students.
• David PREZ, BIG-BAND / SAXOPHONE / ARRANGEMENTS
Language of instruction: French, English
Saxophonist and composer, David Prez studied with David Liebman,
Michael Brecker and Jerry Bergonzi. He has performed with artists like
Bill Stewart, Jeff Ballard, Vincent Bourgeyx, Matt Penman, Obed Calvaire,
David Liebman, Sandro Zerafa, Romain Pilon, Laurent Coq, Philippe Soirat,
has performed on many international stages such as Jazz à Vienne,
Olympia (Paris), Deer Head Inn (USA), Festival Show of Hands (Iran),
Radio France, Le Printemps de Bourges and has toured in Europe, Brazil, 
Bulgaria, Lebanon, Cuba… Founder of the collectiveand label Paris Jazz 
Underground, he currently directs his trio withFred Pasqua and 
Matyas Szandai, as well as a duet with pianist Vincent Bourgeyx, and has released five records as a leader. A musician in great demand and appreciated as a sideman, he is also a renowned teacher with great empathy and rare precision.
Funk  11 to 18 juillet
• Félix SABAL-LECCO, FUNK / BATTERIE / ARRANGEMENTS
Languages ​​of instruction: French, English
Felix Sabal-Lecco accompanied with his drumsticks and on vocals,
the biggest names in pop (Sting, Peter Gabriel, Paul Simon,
Lenny Kravitz), African music (Manu Dibango,Youssou N'Dour, 
Salif Keita) or even Funk, Jazz and Hip-Hop (Prince, 
Herbie Hancock, Snoop Dogg …). He created an explosive and 
unique style between its African culture, its many rhythms, jazz rock, 
jazz funk, reggae, Trip hop and some rhythmsBrazilians, which he 
himself calls "melting pop". Stars from all over the world fall in love with his versatile side, his spectacular playing, his juggling, his power and his precision. Chameleon drummer with an overpowering groove, he has communicative energy and a passion for transmission. He is regularly invited to conservatories and higher music schools in France, Switzerland, Ivory Coast, Congo, to lead group projects.
Be bop   12 to 19 juillet
• Tony MICELI, BE-BOP / VIBRAPHONE / COMPOSITION / ARRANGEMENTS
Language of instruction: English
Tony Miceli is a professor of vibraphone and together at the University
of the Arts and at Temple University in Philadelphia. He also gave courses 
in more than 400 schools and neighborhood centers, as well as in
Pennsylvania state prisons. He performs in many clubsof jazz and festivals 
and teaches in the United States as well as in Europe or in New Zealand. 
He created and is the moderator of VibesWorkshop,community of 
vibraphonists online with more than 3000 members.
He motivated the creation of the Jazz'Muse masterclasses, in which he 
comes for the fourth time to generously share his intimate knowledge of 
American jazz Its traditional, clear and structured teaching allows for 
students to immerse themselves in the art and spirit of American jazz.
His play of vibraphone, all in nuance and precision, exudes swing.
• Antoine BROCHOT, CONTREBASSE / BASSE / ARRANGEMENTS
Language of instruction: French, English
Antoine had the chance to work with Pierre Boussaguet, Laurent Coq 
or Yann Dubost who are for him real mentors, as well as Joe Sanders. 
Sideman in great demand, Antoine is produced in various projects 
such as Cynthia Abraham Trio, Les Mains Sales, Lazzy Bird, 
Marina Viotti "Love Has no Border" …
Active in France and Switzerland, he is notably the leader of his trio
Parisian with Thomas Mayeras and Germain Cornet.
Antoine performed as a finalist in the Tremplin Jazz at Saint-Germain des Prés and at the Montreux Jazz Festival, the Périgord Noir Festival, the Festival Off d'Avignon, the Sunset-Sunside, the Leather Goods, the Hot Club de Lyon … He holds a Masters in musical education option jazz from the Haute École de Musique in Lausanne, and is highly appreciated for his human and educational qualities, as well as for his inimitable little humor …
12 to 19 juillet – Ismaël BOERNER, vibraphone technique
After learning the derbouka, Ismaël turned to the vibraphone which he very quickly overcomes technical difficulties, in particular thanks to fascinating parallel with martial arts and yoga. He is currently completing his master's degree in jazz vibraphone.
Place
Val Muse welcomes you in a preserved valley, the Valromey, in the South-East of France. With waterfalls and wild streams, bordered by a peaceful lake and the last massifs of the Jura, it is 1h15 from Geneva airport, 1h30 from Lyon airport. The nearest station is Culoz.
Framework
Organic and vegetarian food, homestay accommodation, morning yoga classes, attention to everyone, the beauty of the setting, everything contributes to a warm and intensely musical week.
Conditions
Val'Muse is keen to offer this course to as many people as possible and has calculated the price as accurately as possible. It is possible to pay in several installments or to apply for the solidarity fund: contact Val'Muse. Youth vouchers and holiday vouchers accepted
Concerts and Jams
12 juillet : Masters Concert
14 juillet : Vibraphone and marimba recital, David Patrois & Tony Miceli
15 juillet : Jazz end of course Concert
17 juillet : Funk end of course Concert
18 juillet : Be-bop end of course Concert
Jams every evenings
dates indicatives
[[[["field19","equal_to","Oui"]],[["show_fields","field21"]],"and"],[[["field13","equal_to","Composition"]],[["show_fields","field26"]],"and"]]